Russia set for rating review by S&P, Fitch, upgrade in prospect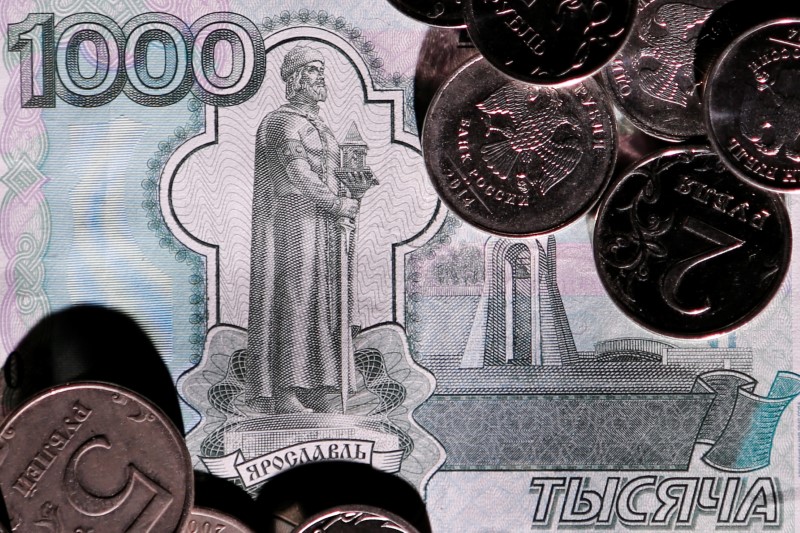 © Reuters. View shows Russian rouble coins and banknote
By Andrey Ostroukh
MOSCOW (Reuters) – Russia may get a long-awaited upgrade to its sovereign ratings this week when international rating agencies are expected to consider a diminished risk of new sanctions and improved economic fundamentals, analysts and officials said.
Investors watch Russia's sovereign ratings closely to balance risk in their portfolios, and have recently increased their exposure to Russian debt that offers lucrative yields.
Russian authorities also track ratings as a gauge of Western sentiment towards Moscow's policies amid the country's preparations for a presidential election on March 18, which President Vladimir Putin is widely expected to win.
S&P Global, which has Russia's long-term foreign-currency rating one notch below investment grade at BB+, is in the spotlight, because if it ups the rating this week, Russia will have a second investment grade rating on top of the one it has from Fitch.
Fitch and S&P are both due to report their rating reviews on Feb. 23.
Higher ratings would not only show Moscow is coping with Western sanctions, but also make its bonds of sufficient quality for the super-sized pension funds and more conservative exchange-traded funds that only hold 'investment grade' assets.
Global agencies slashed Russia's ratings in 2014 when prices for oil, its key export, plummeted and the West imposed sanctions against Moscow for its role in the Ukrainian crisis.
This year, Russia is on track to post a budget surplus amid rising oil prices, a stabilized rouble, record-low inflation and an economic recovery after recession seen in 2015-2016.
Finance Minister Anton Siluanov, who depicted rating downgrades as politically motivated in 2015, said last week he would like rating agencies to "objectively assess the situation" as uncertainty related to sanctions eased.
"I expect a rating upgrade by at least S&P," said Evgeniy Koshelev, chief analyst at Rosbank, Russia's subsidiary of Societe Generale (PA:SOGN).
Budget parameters improved already last year allowing for a rating upgrade but "some rating agencies, apparently, take into account not only economic reasoning," Koshelev said.
S&P said in an interview with Reuters in mid-2017 that the rating outlook was clouded by the prospect of more U.S. sanctions.
Concerns about new U.S. sanctions faded earlier this month when the U.S. Treasury Department said that expanding sanctions on Russia to include its sovereign debt would have "negative spillover effects" on global financial markets and businesses.
Dmitry Polevoy, chief economist at ING in Moscow, also said both agencies may raise ratings this week but Fitch may prefer to take more time to assess economic developments as it already rates Russia at BBB- investment grade with a positive outlook.
S&P and Fitch declined to comment on the possible outcome of the upcoming rating reviews.
Moody's, which rates Russia Ba1 and has no fixed dates for rating decisions, raised its rating outlook to positive last month, saying Russia has gained enough resilience to withstand shocks.
sponsoredArticle = 'div-gpt-ad-1466339494851-0';